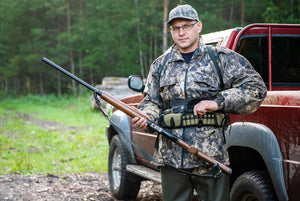 5 Tips for Planning a Successful Hunting Trip
Got a hunting trip coming up? At BurbsUSA, we want to make sure your trip is as successful and as safe as possible. Planning a successful hunting trip is a lot more challenging than you might first think. If you want to make sure that you can make the right choices when planning out your trip, you need a few specific things. So, what do we think matters if you are looking to plan the best hunting trip?
How can you make sure that everyone comes home safe and happy with success?
1. Get Your Permits Checked Out
First things first – do you have the proper documentation?
Make sure that you invest the right amount of time into getting your Hunting License. You need to get a permit that is suited to your specific region and the type(s) of animal, species, or game you wish to hunt. Check with your state wildlife agency to find out what regulations you need to follow, ensuring your trip can begin successfully.
2. Buy the Proper Clothing
What good is a hunter if he shows up in bright clothing that even a blind bat could see?
Make sure you don the right kind of hunting apparel. Buying hunting gear means buying clothes that are tough, breathable and durable, but also give you freedom of movement. With that in mind, we recommend that you choose camouflage items, such as Bullgator shirts, pants, neckgear and hats as well as footwear, and jackets. Always have enough layers to keep you warm, though it depends on the season you are hunting in.
3. Invest in a Camo Hiking Tent
One of the smartest things you can do is buy a good quality tent. Hunting often means plenty of staking out and waiting around. If you want to get that proper kill, though, you need to have patience. So, having a good camp that you can fall back to and get some rest at is very important. With a camo hiking tent and sleeping bags from Burbs, you can stay safe, protected from the elements – and hidden from your next prey!
4. Do you Have Enough Food?
While you might plan on making your hunt the food for the trip, you'll need some calories to get you all started. Food is often among the heaviest items you'll bring with you. Around 1.5lbs of food per day should be enough for you, though colder weather might mean stretching to 2lbs of food per day. Easy foods like oatmeal, protein bars, jerky, and freeze-dried dinner meals should keep you going until you can turn your latest hunt into the real feast for the evening.
5. What are You Carrying?
Lastly, think about the rifle you are using. The weapon is by far the main difference between a good hunt and a bad hunt. Make sure you get a Burbs Backpack or Soft Cooler Bag that allows for you to attach your rifle to the side with ease, or use some strapping to have it attached to your back. Try and go for a lighter gun, too; you want to waste as little stamina as possible.
Keep these factors in mind, and you might find that your next hunting trip is your most successful one yet!
---